There is a dark cloud hanging over Delta – and that cloud is Port Metro Vancouver's plans to double the size of the container port on Roberts Bank by adding Terminal 2. If this new Terminal were to be built it would be the tipping point for Roberts Bank – this world renowned ecosystem in the Fraser River Estuary cannot withstand any more environmental degradation. A public meeting held in South Delta on February 16 received several presentations and agreed to a CALL FOR ACTION:
Write or phone Port Metro Vancouver and express your opposition
– Robin.Silvester@portmetrovancouver.com
– container.improvement@portmetrovancouver.com


Make it a provincial election issue – ask each candidate to declare their position on Roberts Bank Terminal 2


Write your federal MP – Kerry-Lynne.Findlay@parl.gc.ca and express your concerns. Ask for a response.
Take a look at this new presentation which provides factual information as to why this project will irreparably damage Roberts Bank and why it is not justified from a business perspective. This project has serious implications for the whole of the Lower Mainland.
GET INVOLVED – IT CAN BE STOPPED
Read Our NEW Presentation
---
Opposition to Roberts Bank Terminal 2 is Growing.
More and more letters are being sent in to Port Metro Vancouver protesting their plans to add a second container terminal on Roberts Bank.
Here are recent submissions from BC Nature, Dr Rosenau from BCIT, Otto Langer, Fisheries Biologist and Aquatic Ecologist and Roger Emsley Executive Director Against Port Expansion.
Read T2 Project Definition Consultation Response Nov 2012
- By Dr.M. Rosenau - BCIT
Read Aquatic Values & Concerns Regarding Habitat in the Fraser River Estuary Associated with Human Activity & Development
- By Dr. M. Rosenau - BCIT
Read Terminal 2 Feedback Letter
- By John Neville. President - Federation of BC Naturalists
Read Critique of the PMV Proposal to Build Roberts Bank Terminal 2
- By Otto E. Langer MSc - Fisheries Biologist and Aquatic Ecologist, Richmond, BC
In addition read the excellent article by Daniel Wood in the Georgia Strait:
Read Delta Expansion Projects Threaten Farms and Wildlife
Campaign to Stop Terminal 2 Gains Momentum - November 1, 2012
---
October 18, 2012
---
June 21, 2011
---
January 31, 2011
---
January 21, 2009
---
February 17, 2009
Vancouver port may be left waiting for its ship to come in

Geography, some historians say, is destiny. If so, Vancouver as a West Coast port may be destined for some leaner times.


Read Article
---
February 13, 2009
CONTAINER FORECASTS

Latest Port Container Volumes and Forecasts show there is no need for Robert's Bank Terminal 2...


Read Article


---
Who are we?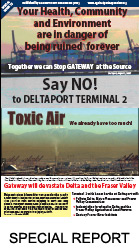 APE (Against Port Expansion in Delta) is a group of concerned citizens who recognize that plans for container terminal expansion on Roberts Bank (T2) will see the degradation of the quality of life for thousands of Lower Mainland residents; the industrialization of prime agricultural land; and the loss of globally-significant habitat for salmon, migrating birds and orca whales.
We are a broad-based community group consisting of people from various backgrounds including homemakers, business owners, members of the work force, scientists, and environmental groups. We share the view that "Enough is Enough". Join us –
Say No To Roberts Bank T2
.
... preserving a prosperous environment and a healthy existence.