Terminal 2 Expansion
Port Metro Vancouver has formally announced plans for its Roberts Bank Container Terminal 2 (T2) project.It is to undergo a Panel Review under the Federal Canadian Environmental Assessment Regulations. Unless Terminal 2 is subjected to a rigorous review - which never happened with the Deltaport Third Berth Project - then the container port capacity on Roberts Bank will TRIPLE its operations by the time T2 is fully functional in 2025.
That means three times the number of container trucks, three times the level of air pollution, three times the number of trains, and three times the incidents of noise pollution from port operations (shunting) and train movements.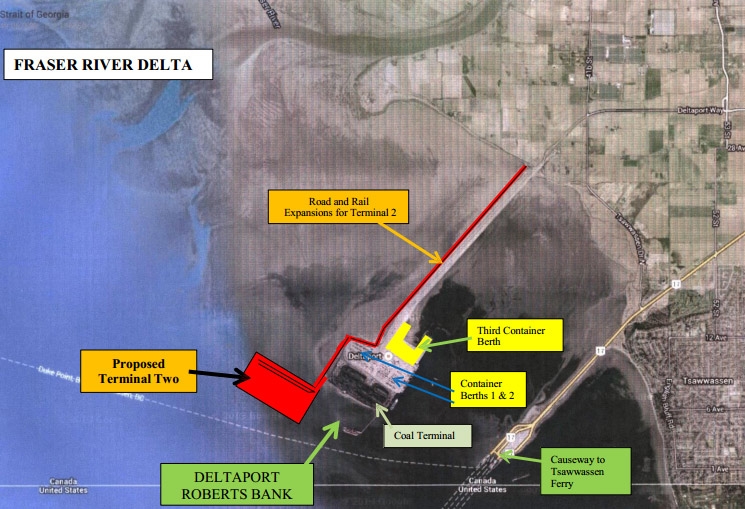 The footprint of the T2 man made island, to be built in Georgia Strait, is over one third the size of Vancouver's Stanley Park. In all the T2 development will destroy over 1000 hectares of Fraser Estuary habitats of "endangered" orca whales and salmon. It is also likely to destroy critical feeding grounds for migratory and other shorebirds that rely on Roberts Bank.This damage cannot be mitigated.
Map_showing_proposed_Terminal_2_location.pdf
TERMINAL 2 IS NOT SUSTAINABLE
Port_Metro_Vancouver_T2_Development_Is_Not_Sustainable_Nov_2015__0.pdf
The infrastructure required to service Terminal 2 includes the newly opened South Fraser Perimeter Road (SFPR); a 17-track intermodal rail yard; additional railway tracks; and container storage facilities. Not only will these projects industrialize over 1000 acres of prime agricultural land, they'll also require the expenditure of millions of taxpayers' dollars.
The cumulative effects of Terminal 2 should have been assessed with Deltaport's Third Berth Project, as required by the Canadian Environmental Assessment Act. In fact, the SFPR, the Tsawwassen First Nation's container storage facility and the 17-track intermodal rail yard should also have been included in the environmental assessment process for DP3.
This piecemeal approach utilized by the provincial and federal governments and their agencies is an outrageous attempt to bypass environmental protection measures and proper public input.
Terminal 2 must be stopped before it gets out of the starting gate to avoid another democratic travesty like Deltaport Third Berth which, after a flawed and incomplete environmental assessment leaving many issues unaddressed, opened in 2010