Against Port Expansion in the Fraser Estuary BC
APE (Against Port Expansion in the Fraser Estuary BC) is a group of concerned citizens who recognize that plans for container terminal expansion on Roberts Bank (T2) will see the degradation of the quality of life for thousands of Lower Mainland residents; the industrialization of prime agricultural land; and the loss of globally-significant habitat for salmon, migrating birds and orca whales.
Threats to the Fraser River and Estuary and Roberts Bank
November 21 2014
Social and environmental values for one of the most important ecosystems in North America– The Fraser River and Estuary – are under threat and Port Metro Vancouver is at the root of all of these threats.
Four massive projects taken together threaten the Fraser River and its estuary in a worse way than at any time in recent history. Proposed projects include; a jet fuel offloading terminal for Vancouver Airport; an adjacent 80 million litre tank farm; a new coal export terminal that includes barging coal down river; and a massive second container terminal on Roberts Bank.
The risks are twofold. The actual construction of these projects will destroy existing valuable ecosystems that support massive marine and bird life. And an accident – a fuel spill, a container vessel sinking – could wipe out entire species, of invertebrates, salmon, orcas, and migratory and shorebird populations.
Couple all of these with the recent dismantling of environmental regulations and the emasculation of key agencies – Environment Canada and Department of Fisheries and Oceans – and the end result is that if Port Metro Vancouver gets the go ahead for all these projects, it will be to the detriment of communities and important ecosystems all along the Fraser and its estuary.
This is not about nimbyism or anti-trade sentiments. There are alternatives. Suggestions for handling jet fuel deliveries to the airport in a more sustainable manner were discarded. Inland container terminals that would make existing ports more productive are discounted by Port Metro Vancouver. Port Metro Vancouver is in denial that maximizing port expansion at Prince Rupert to handle future growth in container traffic is a better option.
For more detail on some of these threats read the October 15 2014 paper by Otto Langer – Fisheries Biologist and Aquatic Ecologist. Fraser_River_Values-Sandheads_to_Annacis_FINAL2_Nov_15__2014.pdf
Environmental Risks from Port Metro Vancouver's Plan for a New Container Terminal on Roberts Bank (T2) – as Demonstrated in New Scientific Studies
November 17 2014
Several new international studies have just been published in a special issue of the Journal of Sea Research, an international and multidisciplinary periodical on marine research. These studies, written by international experts in the field of scientific research, relate to biofilm ecology in tidal flats.
There are 17 articles in the special issue, presenting research from the "International Symposium on Trophic Significance of Microbial Biofilm in Tidal Flats", which took place in France in 2011. At last, the international scientific community is waking up to the critical importance of biofilms in the coastal environment. The special issue is the first comprehensive overview of scientific research related to microbial biofilm ecology on tidal flats. Articles include accounts of general biofilm spatio-temporal dynamics, physical and chemical aspects of biofilm export, the trophic role of biofilms in tidal flat ecosystem functioning, and the biofilm-mediated ecosystem services provided by tidal flat ecosystem to humans. The findings highlight both the technical complexity and major role that biofilms play in the functioning, productivity, health and biodiversity of nearshore ecosystems. In addition they speak to the dynamic nature and inherent fragility of biofilm. A major conclusion is that pluri-disciplinary studies linking physics, chemistry, ecology (from molecules to communities) and human activities in coastal zones are needed to achieve real understanding.
Regrettably none of these experts were invited to participate in the Port Metro Vancouver (PMV) Technical Advisory Groups studying the potential impact on Roberts Bank from building T2. As a result the studies that have been conducted on Roberts Bank are nowhere near the standards exhibited at the 2011 symposium and the understanding is severely lacking compared to their European counterparts. This therefore brings into question the overall worth of the work carried out by PMV thus far on biofilm.
What these new studies also show is that coastal ecosystems rank today among the most endangered ecosystems in the world due to human activities. Among wild populations, 48% of shorebird species are declining due to the degradation and loss of habitats anywhere along their flyway. A recent report by the World Wildlife Federation - the "Living Planet Report" - complements this view by suggesting that "… more than 10,000 representative populations of mammals, birds, reptiles, amphibians and fish, has declined by 52 per cent since 1970. Put another way, in less than two human generations, population sizes of vertebrate species have dropped by half. These are the living forms that constitute the fabric of the ecosystems which sustain life on Earth – and the barometer of what we are doing to our own planet, our only home. We ignore their decline at our peril."
One such ecosystem is Roberts Bank on the Fraser River Delta, recognized internationally as a critical stepping-stone for millions of shorebirds migrating along the Pacific Flyway. Roberts Bank supports rich biofilm pastures as well as associated crustacean, mollusc and other invertebrate resources that are the food for Sandpipers and numerous other migratory birds. Alarmingly Port Metro Vancouver's new container terminal T2, on Roberts Bank, severely jeopardizes this internationally important ecosystem. In particular, the construction of T2 may fatally impact the biofilm. The widened port causeway for T2 would not only be built over and destroy a large area containing biofilm, but the T2 man-made island would likely change tidal flows and currents over Roberts Bank that sustain the remaining biofilm. Removing such an essential food source could doom the entire species of Western Sandpiper as well as other shorebird species.
The risks to Roberts Bank from Port Metro Vancouver's container terminal expansion are too severe. We simply cannot afford to risk the destruction of migratory and shorebird feeding grounds on Roberts Bank by development of a second container port.
As the World Wildlife Federation says: "By taking more from our ecosystems and natural processes than can be replenished, we are jeopardizing our very future. Nature conservation and sustainable development go hand-in-hand. They are not only about preserving biodiversity and wild places, but just as much about safeguarding the future of humanity – our well-being, economy, food security and social stability – indeed, our very survival."
Let's heed the warning – and say no to T2.
Shorebirds at Roberts Bank
It does not matter what time of year, Roberts Bank is in constant use by many species of birds and waterfowl. September 15 2014 there were a thousand shorebirds, mostly Black Bellied Plover using the NW Corner Roberts Bank Causeway, along with over 500 waterfowl . They lined the edge of the salt marsh right the way up the Western Causeway in an area that would be covered with an expanded port causeway and rail tracks if T2 goes ahead. Stop Port Metro Vancouver from destroying critical shorebird habitat - SAY NO TO T2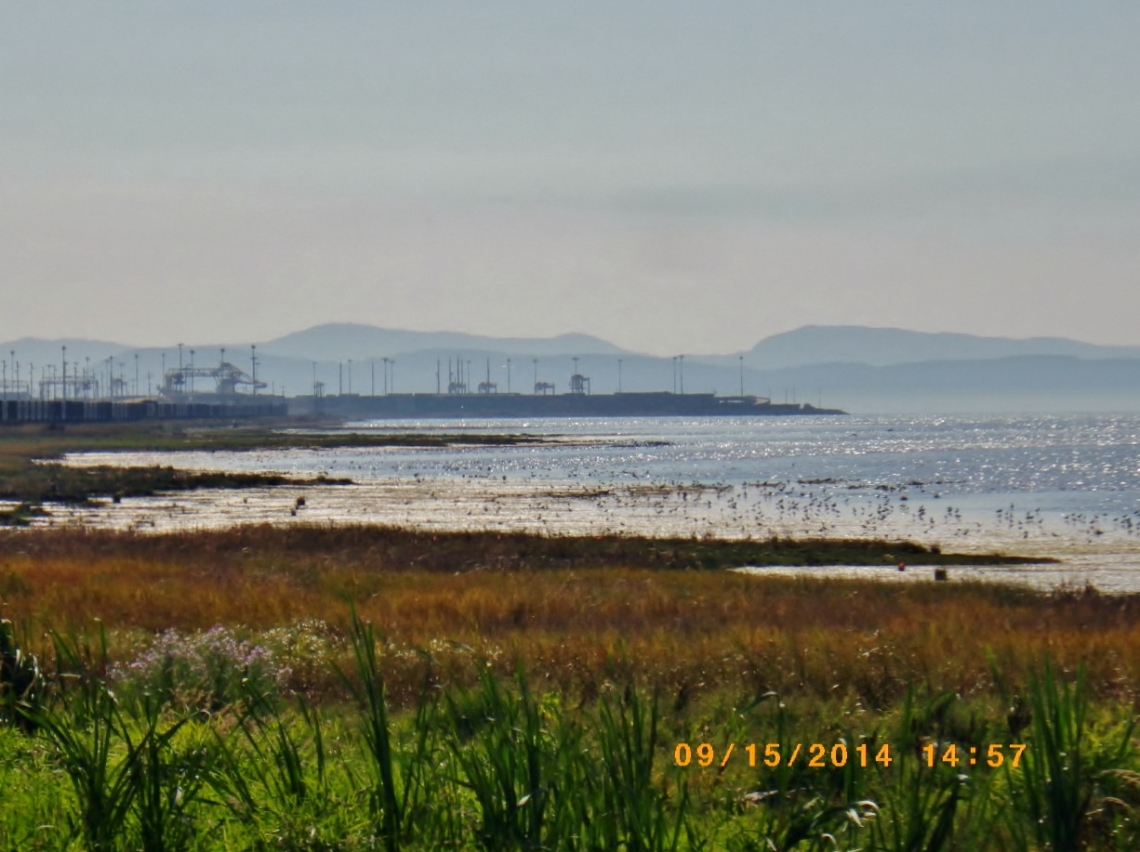 The Myth of Port Metro Vancouver's Shore Power
Have you seen the slick TV ads telling us how Port Metro Vancouver is providing shore power for cruise ships to cut down on pollution?
The Vancouver Sun ran an article on August 19 telling us that less than one third of the cruise ships are actually using it.
http://www.vancouversun.com/travel/Most+cruise+ships+tapping+into+Vancouver+shore+power/10129179/story.html
One cruise line then advised that it has shore power connectivity but the Port assigns them a berth where the connection is on the wrong side!
Locally one Delta Resident wrote in the Delta Optimist, suggesting that Port Metro Vancouver treats Deltans as second class citizens:
http://www.delta-optimist.com/deltans-are-second-class-citizens-1.1320236
Pollution from ocean going vessels – both cruise ships as well as the many freighters docking in Vancouver area ports – are indeed a significant source of pollution. The pollution problem is actually much worse than Port Metro Vancouver would have you believe. Only a few of the cruise ships use shore power, and PMV does not even provide it at their other terminals, despite repeated requests to do so. As usual they have many excuses.
In any case, by our estimate cruise ships represent only about 3% of the total ship-days in port, so if only 1/3 of the cruise ships, (and none of the other ships) are using shore power, it means about 99% of the ships tied up in the port are using their own diesel engines, likely burning dirty diesel fuel (Bunker C).
The extent of this problem can be gauged by looking closely at the statistics provided by Metro Vancouver on the sources of pollution in the Metro air shed, (emitters).Metro Vancouver says that on average, 10% of all air pollution is caused by ships. This average is derived by including Carbon Dioxide (CO2) as one of the pollutants, but CO2 isn't a health risk in the usual sense, and is nearly all contributed by other sources, e.g cars and industry, not ships. In other words CO2 won't give you cancer or emphysema.
There is a huge amount of CO2 generated in the air shed, in tonnage terms compared to the other real pollutants. It therefore skews the average to make ships look relatively benign, and thus we arrive at the 10% figure. But if we take out CO2 from the average, the percentage contribution of ships to the real pollution situation gets much worse:
The serious and major pollutants in the Metro Vancouver air shed include NOx, Diesel Particulate Matter and Sulphur Dioxide.
Ships contribute now, respectively 14%, 38% and 79% of these key pollutants, obviously much more than the 10% figure widely quoted
These three pollutants are all serious health risks, right now. They cause smog, which is bad enough, but they also lead to serious illnesses such as lung cancer, bronchitis, emphysema, cardiovascular diseases, you name it. The list goes on and on….
Reading the medical literature on the health risks of these pollutants is a sobering experience and should be a wake up call to port inhabitants in any major port where these monstrous diesel engines are allowed to idle for days on end.
Bad as this is, the percentage contribution is only going to get worse in future, up to double that, due to various factors.
Most other segments of society are now closely regulated, i.e. forced to decrease air pollution all the time, (industry, cars, trucks for instance), but not Port Metro Vancouver, which is totally unregulated and continues to pollute our atmosphere.
Port Metro Vancouver plans to bring in many more vessels, (all burning dirty diesel fuel while in our port), including:

Coal ships to Fraser Surrey Docks
Oil Tankers to Kinder Morgan
More container ships to Roberts Bank
Bottom line - we have a serious health risk in Metro Vancouver coming from ships, far more than we are being told.The only way to reduce this problem is to require – perhaps even regulate -that shore power must be implemented at all Port Metro Vancouver sites, not just the cruise ships, which are a minimal part of the problem anyway.
Tell Port Metro Vancouver to stop polluting our air shed. You can tell them here:
http://porttalk.ca/port-talk-consultations