Against Port Expansion in the Fraser Estuary BC
APE (Against Port Expansion in the Fraser Estuary BC) is a group of concerned citizens who recognize that plans for container terminal expansion on Roberts Bank (T2) will see the degradation of the quality of life for thousands of Lower Mainland residents; the industrialization of prime agricultural land; and the loss of globally-significant habitat for salmon, migrating birds and orca whales.
MLA Speaks Out About "Rare Biolfilm" on Roberts Bank that is threatened by Development
Speaking about International Migratory Bird Day in the BC Legislature on May 7 2014, MLA for Delta South, Vicki Huntington, highlighted the importance of Roberts Bank as a unique ecosystem. She reminded the House that on Roberts Bank "One of the world's greatest migrations takes place on our doorstep, a doorstep that is in danger of becoming a doormat". She went on to point out that a rare intertidal biofilm situated right on Roberts Bank sustains the world's population of Western Sandpipers.
She then went on to indicate that now competing interests, such as Port Metro Vancouver's proposed container terminal expansion on Roberts Bank, threaten to destroy this ecosystem. Suggesting to the Legislature that Delta South is without parallel in British Columbia in terms of its natural wonders, with Roberts Bank in particular being designated under the United Nations Ramsar Convention as wetlands of international significance, she said "Enough is Enough!" and called on the legilsature to protect the vital ecosystem that is Roberts Bank .
View Statement by Vicki Huntington in the BC Legislature
https://www.youtube.com/watch?v=Ne1Gg5xI3Ww&list=UUhPMNoXA2dHnHsYD3f-5Ndg
No Business Case for T2
No Business Case for a Second Container Terminal in the Fraser River Estuary
Port Metro Vancouver (PMV) is moving forward with a Canadian Environmental Assessment for a second Container Shipping Terminal (T2) with three berths adjacent to Deltaport at Roberts Bank. The $3 billion Terminal 2 will add three million TEUs (twenty-foot container equivalent units) of capacity. To justify this massive project, the port is publicizing exaggerated forecasts claiming its container traffic will triple by 2030. This translates into a Compound Annual Growth Rate (CAGR) of 6.3% per year. It is an unrealistic forecast considering the fact that the last 5 years (2008 – 2013) have shown a CAGR of 2.54%.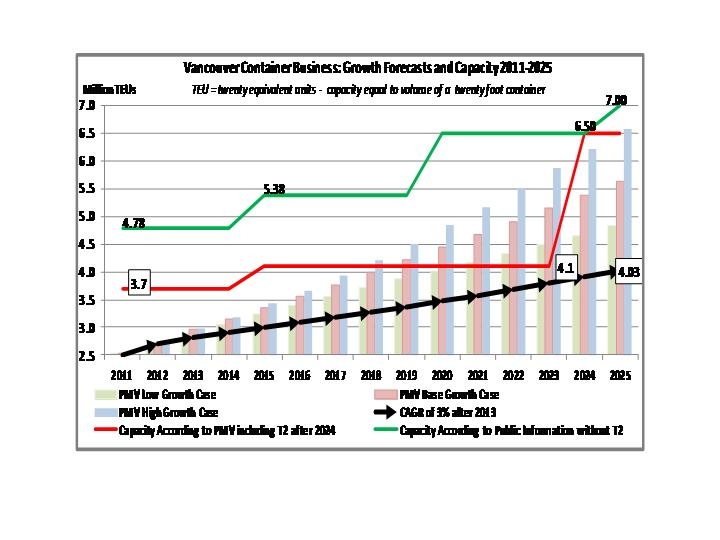 PMV Container Growth Forecasts - Click Here For a Printable Copy
PMV has consistently understated capacity and overstated projected container volumes in order to push for container expansion at Robert Bank. The Port is now repeating this misrepresentation to justify their Terminal 2 (T2) project. PMV is ignoring the capacity and potential for expansion at Prince Rupert Port in spite of a Government Report (Strategic Advisor Report, Transport Canada, 2008) advising that expanded container capacity should be developed in Prince Rupert before investing in Vancouver.
Economically, it defies logic to spend about $3 billion ($1,000 per TEU of capacity created) for a new terminal to expand container capacity at Port Metro Vancouver when Prince Rupert estimates it will cost about $650 million to expand its capacity by one and a half million TEUs ($433 per TEU of capacity).
Considering that less than a third of PMV container throughput is destined for southern BC, 50% to 60% of B.C. container business can be handled by either Port Metro Vancouver or Prince Rupert Port.
More importantly, ports in Seattle, Tacoma and Los Angeles compete with B.C. ports for US container business. About 20% of PMV and 50% of Prince Rupert container business is bound to the US. PMV will have to massively increase its share of rail volumes to the US market in order to fill up the proposed T2 project. Recent rail congestion suggests that this will be extremely unlikely, and PMV has done no studies to suggest that the Canadian railways could handle this additional volume, particularly in conjunction with increased capacity in Prince Rupert and demands of grain, oil, and other domestic cargo movements.
PMV is planning to spend about $400 million just for the approval stages of the new Terminal 2 (T2). The Port then plans to enter into contracts that will expose PMV to annual contingent liabilities of well over one $100 million to guarantee payments to the company that will construct T2. All of this is being done so that PMV can generate congestion on Canada's roads and railways to increase the movement of containers to the US.
It makes no business sense to spend billions to dredge and fill globally-significant habitat in the Fraser River estuary when the combined container capacity of PMV and Prince Rupert Port can easily accommodate several decades of Canadian container trade. Where is the accountability?
Growing port doesn't appear to be answerable to anyone
Migrating shorebirds — and the goo they eat — is a sticky issue for Port Metro Vancouver
Western Sandpiper Migration Under Threat from proposed Port Metro Vancouver Expansion on Roberts Bank
Port Metro Vancouver is in denial. They refuse to recognize the importance of Roberts Bank and its unique biofilm which is critical to the very survival of the Western Sandpiper species. Their staff are constantly trying to downplay the importance of the biofilm, suggesting that there are other food sources - Nonsense. They make comments such as "We are committed to ensuring that any potential impacts of the project to the environment generally, including shorebirds, are avoided or mitigated." How exaclty do they think they can mitigate the destruction of the Western Sandpiper species?
Read the May 2 Vancouver Sun article and video by Margaret Munro National Science Writer Post Media News. Migrating Shorebirds - The Sticky Issue
Read also the newly released report on Western Sandpipers - High Risk of Environmental Degradation on Roberts Bank
See photo by Terry Carr of the spectacle of the Western Sandpiper migration