Against Port Expansion in the Fraser Estuary BC
APE (Against Port Expansion in the Fraser Estuary BC) is a group of concerned citizens who recognize that plans for container terminal expansion on Roberts Bank (T2) will see the degradation of the quality of life for thousands of Lower Mainland residents; the industrialization of prime agricultural land; and the loss of globally-significant habitat for salmon, migrating birds and orca whales.
Port Metro Vancouver - Expansion Beyond T2?
News March 7 2014
An article in the South Delta Leader suggests there is no way of knowing if Terminal 2 would be the final expansion on Roberts Bank - according to Cliff Stewart of Port Metro Vancouver. Does this mean Delta can expect an oil terminal as well, for example? How much more environmental damage are they planning for Roberts Bank?
In the same article Cliff Stewart is quoted as saying "If you go back and look at the environmental assessment of the Third Berth Project you will see T2 as it was understood at that time and you will see the effects of that assessment."
Trouble is the opposite is the case. The cumulative impact assessment of Deltaport Third Berth should have included T2. But Port Metro Vancouver successfully pulled it out of the assessment process, saying that the cumulative effects of T2 were unknown and speculative.
Green Party Leader Elizabeth May takes port fight to Ottawa
February 2014
Opponents of port expansion at Roberts Bank are pleased the issue is getting some national play.

Green Party Leader Elizabeth May tabled a petition in the House of Commons last week calling on Parliament to stop further port expansion in the Fraser River estuary in Delta. She said the petition comes from more than 1,000 B.C. residents opposed to constructing a massive second container terminal at the mouth of the Fraser.

Read Article
"Leave Well Enough Alone"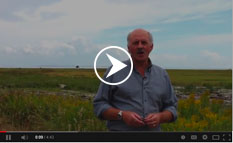 Click to watch video