Against Port Expansion in the Fraser Estuary BC
APE (Against Port Expansion in the Fraser Estuary BC) is a group of concerned citizens who recognize that plans for container terminal expansion on Roberts Bank (T2) will see the degradation of the quality of life for thousands of Lower Mainland residents; the industrialization of prime agricultural land; and the loss of globally-significant habitat for salmon, migrating birds and orca whales.
Video - The Year of Living Fearlessly
January 18 2015
Watch this new video by Citizens Against Port Expansion
https://www.youtube.com/watch?v=YS5Kavle1uo
Cliff Caprani outlines what we are up against in the months ahead as we work to stop Port Metro Vancouver from building a second container terminal on a huge man-made island in Georgia Strait.
PMV Habitat Restoration a Failure
Port Metro Vancouver (PMV) has had a habitat banking program for some years. The concept works like this - they select an area that they decide they can "improve" and then carry out work on that location. The sole purpose of this program is for PMV to build up credits that it can use to offset damage that it does to the environment in other locations – such as if it were to get permission to build a second container terminal on Roberts Bank.
There is nothing wrong with the concept but there is plenty wrong with the way PMV executes. Recently there has been little or no oversight or control by government agencies, nor does PMV take account of community concerns. A good example was the log clearing that they carried out in Boundary Bay. For this project there was no community consultation, nor did they listen to experts on salt marsh ecology that said it was best to leave the logs where they were. Instead they moved in and destroyed an area that was a valuable food source for raptors and other birds of prey. By removing the logs they also killed off all the voles and other small critters that lived in and under the logs. This destroyed a valuable source of food for the winter of 2013 for the owls, and other birds of prey.
Also, as a result in 2014 it made the salt marsh much more accessible. People were able to tramp over the salt marsh, ride bikes and ATVs and do further damage to what became a fragile environment. Then in late 2014 the first major winter storm brought back the logs, seaweed and other debris, doing even more damage to what is now a fragile environment.
The pictures below tell the tale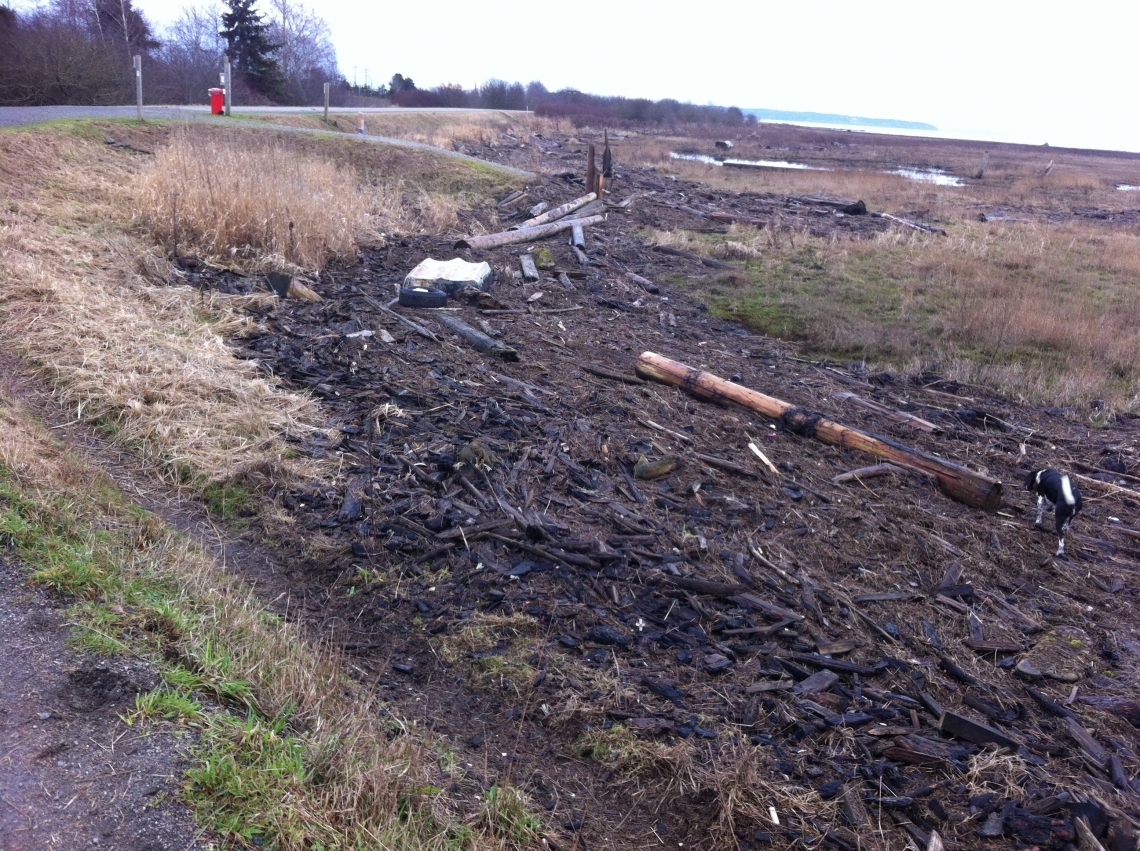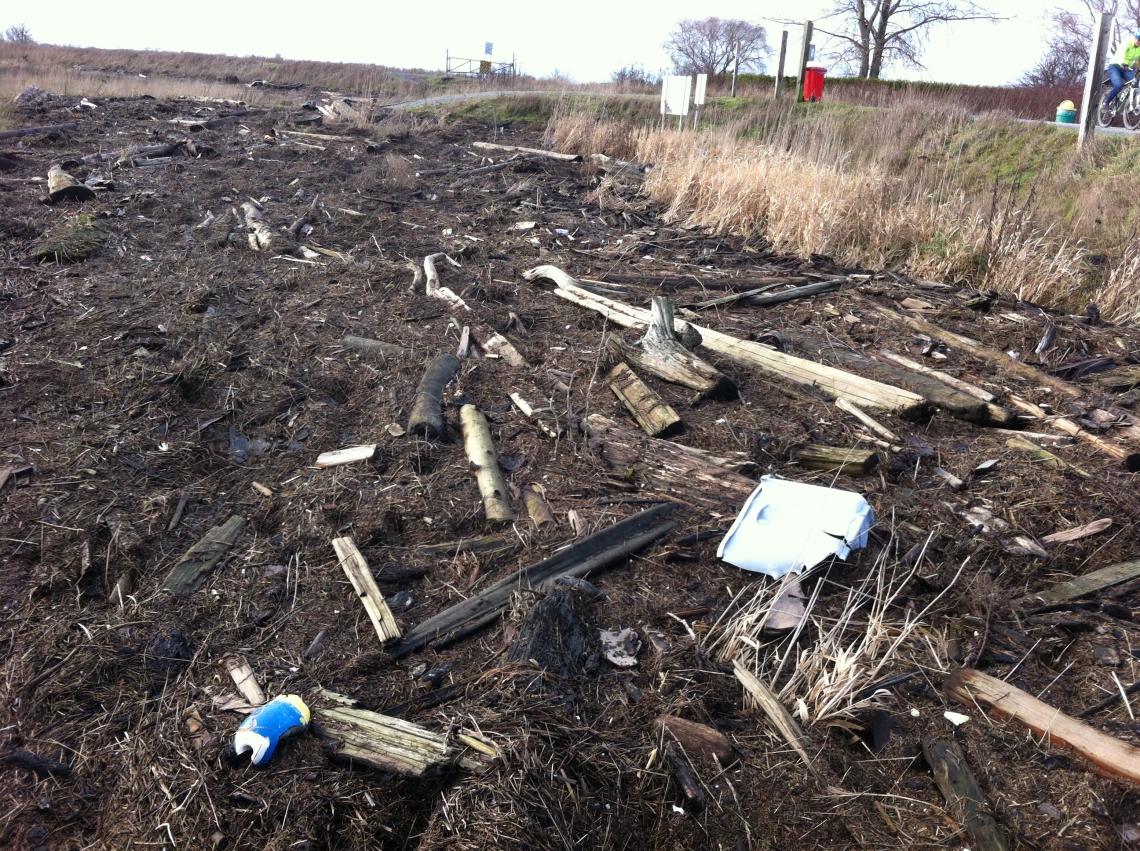 APE January Newsletter
2015 is going to be a pivotal year in our fight to stop Port Metro Vancouver from building its Terminal 2 project on Roberts Bank. It is going to take a lot of effort to stop T2,
but we can do it!!
Please read our January Newsletter below which contains:
A review of the key evidence that we have assembled and what it will take to stop T2.
A summary of the stages of the upcoming Federal Panel Review, what to expect and how you can participate.
An update on PMV's disastrous habitat banking project at Boundary Bay, where the recent winter storm brought back logs and debris.
A look at PMV's public relations campaign and "spin" as they attempt to fend off criticism of T2.
A heads-up on our plans for holding a second annual "Peep-In" in April – to celebrate the return of the Western Sandpipers as they migrate north
A look into the murky world of federal politics and recent changes to legislation that may help PMV get around provisions in the Species at Risk Act.
Roberts Bank Listed as an area in Danger
A recent report by the conservation group Birdlife International lists Roberts Bank as one of four important bird areas in Canada in danger.
" You've got intensification of agriculture happening, expanding urban development, expanding port development and infrastructure, recreational pressures, shipping pressures, you have all this happening together," said Andrew Couturier, who works with Bird Studies Canada, one of BirdLife International's partners.
This is the very area where Port Metro Vancouver plans to build a second container terminal, with the potential to further damage an area that is noted as being one of the richest and most important ecosystems for migrant and wintering shorebirds in Canada.
We cannot let this happen. Tell Port Metro Vancouver that it must not do any further damage to Roberts Bank.
Read the full report on threats to Roberts Bank
http://www.birdlife.org/datazone/sitefactsheet.php?id=11056