Against Port Expansion in the Fraser Estuary BC
APE (Against Port Expansion in the Fraser Estuary BC) is a group of concerned citizens who recognize that plans for container terminal expansion on Roberts Bank (RBT2) will see the loss of globally-significant wetlands and habitat (classified as a Globally Significant Important Bird and Biodiversity Area - IBA) for migratory birds, shorebirds, waterfowl, salmon, herring, crabs and orca whales; degradation of the quality of life for thousands of Lower Mainland residents; and the industrialization of prime agricultural land.
New Video - Western Sandpipers Under Threat
One of the wildlife casualties, if Roberts Bank Terminal 2 (RBT2) were to be built, is likely to be the Western Sandpiper, so we have banded together with the Citizens Against Port Expansion Group (www.noterminal2.ca), and a number of others to produce a new video to raise the profile of the plight of the sandpipers.
Here is the video:
https://www.youtube.com/watch?v=8IrQXoGoGjM
The Western Sandpiper could become collateral damage if Vancouver Fraser Port Authority (VFPA) receives permission to construct a new second container terminal at Roberts Bank in Delta (RBT2). A key issue is BIOFILM, a slimy goop that Western Sandpipers feed on. Roberts Bank is a major stop on the Pacific Flyway for the migrating sandpipers on their journey to the arctic where they breed each year.
Roberts Bank, with its:
Bird Life International designation as a Global Important Bird and Biodiversity Area.
Western Hemisphere Shorebird Reserve Network designation as a site of Hemispheric Importance (only eight such sites exist in the whole of the Americas).
BC Government designation as a Wildlife Management Area - "providing crucial wintering grounds for the highest number of waterfowl and shorebirds anywhere in Canada".
Worldwide recognition as a site of natural abundance and biodiversity, one of the most significant such areas in the Americas and worldwide
- is under threat from further port expansion. Studies have shown that Roberts Bank's unique biofilm will be significantly degraded by the construction and operation of RBT2, putting the millions of shorebirds and other wildlife species that rely on this rich ecosystem at risk. For sandpipers the results would be devastating.
No biofilm equals no food for the birds and no future.
Vancouver Fraser Port Authority and its consutants disagree. Its consultants suggest that the negative impacts to the biofilm can be mitigated. Not true. Environment and Climate Change Canada (ECCC) scientists have stated major concerns with the RBT2 development, saying that "… the impacts on Biofilm will be permanent, irreversible and continuous". Many other groups also share The ECCC viewpoint.
The negaitve impacts go well beyond the Western Sandpipers. Millions of other shorebirds, the Orcas, salmon, herring, crabs, eulachon, several species at risk and other wildife will also be impacted.
There is simply to much risk. The precautionary principle must apply. RBT2 must be abandoned.

Capacity Crunch in Vancouver - No Way!
Is the West Coast Canada facing a container terminal capacity crunch by 2025?
Not at all.
The West Coast Canada will have more container capacity by 2025 than it has today.
Mr Silvester continues to mislead, ramping up the rhetoric, claiming: "…..
that at a forecast growth rate of four per cent per year, additional capacity will be required on the West Coast by 2025.
" Why, because he is fixated on building a second container terminal on Roberts Bank in Delta BC (RBT2).
Don't buy it, simply look at the numbers.
Significant expansions at Vancouver Fraser Port Authority (VFPA) container terminals have been announced, some of which are in progress and others due to commence soon. Deltaport is almost done adding 600,000 TEUs, In Vancouver's inner harbour Centerm has just announced a two thirds increase in capacity, and Vanterm is also going to increase its capacity. Equally the Prince Rupert container terminal is expanding and has recently announced even further expansions on top of those that it made in 2017.
All of this additional capacity is to come online before 2025.
That is not all. There is further expansion potential at the two Vancouver inner harbour terminals - 1 million TEUs or more. And at Prince Rupert there is another 3 - 4 million TEU expansion potential.
Using actual VFPA statistics the picture is clear. VFPA will NOT have used up all the additional capacity that is planned for its container terminals. Therefore overall the VFPA terminals will have more spare capacity than they do today.
Looking at the West Coast as a whole (therefore including Prince Rupert) by 2025, and using a four percent growth rate, the west coast container terminals will have used up 60 percent or less of the additional capacity that is coming on stream.
Using a more realistic long term growth rate of 3 percent VFPA will have used up 70 percent or less of the additional capacity coming on stream. And for the West Coast as a whole 56 percent or less of the additional capacity will have been used up.
Then there is the issue of US containers. VFPA
handles significant volumes of US container traffic, potentially upwards of 800,000 TEUs per year. Handling US containers adds nothing to the Canadian economy. In addition US Ports, especially the Northwest Seaport Alliance, are planning to take back significant volumes of that US traffic - away from VFPA.
So to say that the West Coast will run out of terminal capacity by 2025 is simply not true.
This smoke and mirrors game is being played so that VFPA can add a second terminal on Roberts Bank (RBT2) which the statistics show is not needed. Looking to the future, if VFPA were to gain approval to proceed with RBT2 they would be building a second container terminal whose capacity would be close to the two million US containers that West Coast Canada might be handling by 2025. And this in an area that is the number one Important Bird Area in the Americas, whose ecosystem would be severely damaged were RBT2 to be built. Are we really prepared to damage an ecosystem rich in biodiversity to handle US containers that add little or nothing to the Canadian economy.
It is clear - all the projections indicate that West Coast Canada has sufficient container terminal capacity to satisfy Canada's trading needs for years to come.
Canada does not need RBT2 to satisfy its trading needs. The Fraser River Estuary and the wildlife species that rely on it do not need the additional negative environmental impacts. The current terminal operators do not want RBT2 to be built.

Bird Festival and Ornithological Congress
Delta MP and Minister Carla Qualtrough unveiled new Canada Post stamps celebrating some of Canada's bird species at the opening of the Bird Festival and International Ornothilogical Congress on August 20.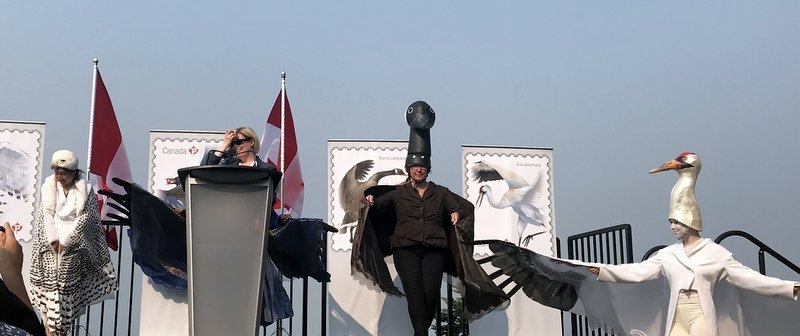 The festival and congress are a real opportunity to display the wonders of our region's birds and diversity to the many international visitors .
Visitors will be enjoying a number of tours during the Congress that will include visits to Roberts Bank and Brunswick Point where hundreds of thousands of shorebirds stop to feed and refuel during their northward and southward migrations.
The opening commenced with a wonderful parade of birds starting at Stanley Park and ending at Jack Poole Plaza.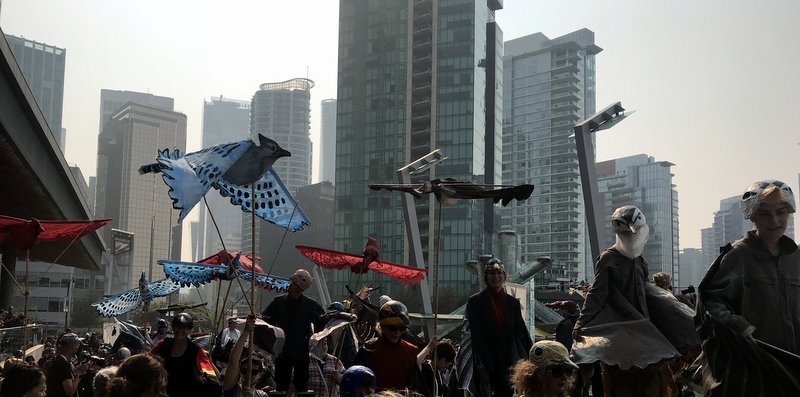 Much is wrong with RBT2 – tell the Panel
Much is wrong with RBT2 – time to tell the Panel
The federally appointed Review Panel (the Panel) established to review the Roberts Bank Terminal 2 Project (RBT2) proposed by the Vancouver Fraser Port Authority (VFPA) is asking for input. The panel wants to know if VFPA has now provided sufficient information for this project to proceed to the public hearing phase.
Answer – No, far from it. The information provided thus far fails to provide an independent, reasoned, science-based rationale sufficient to determine that the RBT2 project will not cause significant harm to the Roberts Bank ecosystem should the project be approved. In fact it is just the reverse. There is a high degree of uncertainty that VFPA has failed to address.
So, now it is your turn. Make sure you have your say. Tell the Panel and your MP.
Here is how:
2. Write to the Panel:
Panel.RBT2@ceaa.gc.ca
What is deficient with the VFPA Environmental Impact Statement for RBT2? Despite the 15- 20,000 pages of material submitted by VFPA thus far they are still deficient in dealing with key issues, including:
1. Biofilm impacts and the very survival of certain shorebirds and other wildlife species are central to the whole RBT2 development. VFPA and its paid consultants are trying to tell us that RBT2 will not impact the biofilm that is critical to the very survival of shorebirds, the Western Sandpiper in particular. The Port's responses on this issue are self-serving and biased. Environment and Climate Change Canada (ECCC) disagrees with the Port's findings and conclusions. ECCC has been very specific – not only are they not satisfied with the Port's answers on species at risk impacts, they totally disagree with the Port on biofilm impacts. They state:
"In particular, impacts to biofilm could potentially implicate the long-term viability of Western Sandpipers as a species. ECCC similarly characterizes impacts to Western Sandpipers as potentially high in magnitude, permanent, irreversible, and continuous".
An independent international biofilm experts has this to say "At this point in time, and well into the foreseeable future, our knowledge of the (mudflat) ecosystems is so limited that anyone who says that the port construction will not compromise Roberts Bank is talking through his hat". He goes on to state:"
… it is obvious that the shorebirds will be compromised right off the bat, and the specific microbial characteristics will also be changed as a function of the sedimentary changes which will undoubtedly occur due to altered current regimes. How those will cascade up to the other living levels is simply not known. ….. deciding to go ahead with the terminal project is a huge ecological gamble, and once it's built, there's no going back".
Damning condemnations. Add to that the fact that the widened port causeway will cover over significant areas of biofilm and it is clear the Port's conclusions on this important issue are suspect.
2. Changes in salinity. The Department of Fisheries and Oceans has stated that the information put out by the Port and its consultants thus far is insufficient to support the conclusions reached by the Port. There is absolutely no certainty in terms of environmental impacts and a lot of confusion. Without a high degree of clarity on the issue of salinity, there is no way in which a reasoned science-based decision can be made at this time
3. Shorebird populations are in decline. Here is what the New York Times reported recently:
"A worldwide catastrophe is underway among an extraordinary group of birds — the marathon migrants we know as shorebirds. Numbers of some species are falling so quickly that many biologists fear an imminent planet-wide wave of extinctions."
The Canadian Wildlife Service reported recently, advising that with Western Sandpipers the 2017 season had the lowest number of Western Sandpipers on record since 1991. They went on to state that the overall trend from 1991 to 2017 indicates a decline of -2%/year (P = 0.09). Does the Port agree with this – no. They state that the Western Sandpiper population is stable.
4. Roberts Bank. Over ten years ago Environment Canada stated that further port development at Roberts Bank risked breaking the chain of the Pacific Flyway. The Port ignored this and is trying to go ahead anyway. The Port has thus far refused to comment on comparisons between the East Asia/Australasia Flyway, where there have been huge declines in shorebird populations due to port and industrial development, and the Pacific Flyway. Why won't the Port address this point.
5. The Precautionary Principle, enshrined in Canada's environmental regulations. Basically the principle is "better safe than sorry". Therefore this principle states that where there are threats of serious irreversible damage from a development, such as RBT2, and lack of scientific certainty then the project should not proceed. To proceed risks serious environmental damage as already stated by Environment Canada. If RBT2 is built and the damage occurs this will be a serious international embarrassment to Canada. So again better safe and sorry – don't build RBT2.
6. Other Wildlife and Endangered Species. The potential for serious or irreversible damage, plus lack of full scientific certainty goes well beyond shorebirds. The environmental health of Roberts Bank is critical for juvenile salmon, herring, crabs, Great Blue Herons and the endangered Southern Resident Killer Whales.
7. Do we need another container terminal? No. The current expansions now in progress at existing lower mainland container terminals plus those at Prince Rupert, as well as other capacity increases in the planning stages, are sufficient for Canada's trading needs for many years to come. RBT2 risks damaging the prospects of existing terminals and adds container capacity that will flood the market. Current stakeholders are opposed to this project which if built would be the most expensive container terminal development in the world.
Make sure you have your say.