Events
INFORMATION SESSIONS ON THE ROBERTS BANK TERMINAL 2 ENVIRONMENTAL ASSESSMENT - SEP 20 TO 26 2018
COME OUT TO ONE OF THESE SESSIONS. FOR DETAILS CLICK THE LINK BELOW
https://www.ceaa-acee.gc.ca/050/evaluations/document/125123?culture=en-CA
annual peep-in at roberts bank
EVENT: WE HAVE HELD AN ANNUAL PEEP-IN SINCE 2013 TO WITNESS FIRST HAND THE HUGE NATURAL SPECTACLE OF THE WESTERN SANDPIPER MIGRATION AS THEY JOURNEY NORTH TO THEIR BREEDING GROUNDS IN ALASKA. THE WESTERN SANDPIPER POPULATION IS AT RISK AS A RESULT OF THE PORT OF VANCOUVER'S PROPOSAL TO BUILD ROBERTS BANK CONTAINER TERMINAL 2
WHERE: ON THE DYKE PATH, SOUTH OF BRUNSWICK POINT, LADNER B.C.
WHEN: SOMETIME IN APRIL WHEN THE TIDES ARE RIGHT FOR A VIEWING. WATCH FOR ANNOUNCEMENTS
WHAT: BIRDERS, CONCERNED CITIZENS, NATURALISTS, WILL GATHER TO VIEW THE ANNUAL WESTERN SANDPIPER NORTHWARD MIGRATION - TENS OF THOUSANDS OF BIRDS IN THE AIR AND SWOOPING DOWN TO FEED ON THE ROBERTS BANK MUDFLATS. COME JOIN US TO PROTEST FURTHER PORT DEVELOPMENT.
WHY: THE PORT OF VANCOUVER PLANS TO BUILD A SECOND CONTAINER TERMINAL ON ROBERTS BANK. THIS PROJECT RISKS BREAKING THE CHAIN IN THE PACIFIC FLYWAY, DESTROYING CRITICAL HABITAT AND RESULTING IN MILLIONS OF SHOREBIRDS BEING IMPACTED, WITH POPULATIONS DESTROYED OR SEVERELY COMPROMISED.
DIRECTIONS:
1. Drive into Ladner Town Centre on Highway 10. At Arthur Drive go across the traffic light onto 47a Avenue, which then runs into River Road West.
2. Continue west along River Road West all the way to the end, where there is plenty of parking.
3. Walk west along the dyke for about 20 minutes to Brunswick Point.
MAP: https://www.google.ca/maps?t=h&ie=UTF8&ll=49.06172,-123.150988&spn=0.030201,0.084543&z=14&vpsrc=6
FACEBOOK https://www.facebook.com/events/871220826257834/
_______________________________________________________________________
citizens against port expansion public meeting april 5 2014
The public meeting organized by CAPE was very successful. Its purpose was to provide the pulbic with further information on the many negative issues surrounding Port Metro Vancouver's plans to build a second container terminal on Roberts Bank. Attended by close to one hundred people, the meeting heard from two excellent speakers. Dr Mary Taitt, who heads up the Boundary Bay Conservation Committee, spoke about the many shortcomings of the Port Metro Vancouver approach to protecting critical habitat. She also noted that Roberts Bank was mysteriously left out of the recent RAMSAR designation for the Fraser Estuary. Dr. Marvin Rosenau, a biologist, talked about the significance of the Fraser Estuary and how much damage has already been done, noting for example the impacts on the juvenile salmon as they have to negotiate their way around the current container port. Both speakers indicated the importance of speaking out and participating in the review of Terminal 2. It is time for the citizens of the Lower Mainland to speak out and say NO TO TERMINAL 2.
____________________________________________________________________
mass rally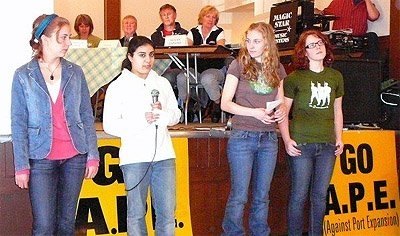 You may remember the Mass Rally held a number of years ago to protest the Gateway Plan.
The Gateway Program is a massive transportation plan and is just one of the many steps outlined in the Pacific Gateway Strategy Action Plan, a comprehensive plan designed to put Canada's west coast ports in a position to capture significant portions of potential business from Asia's booming markets.
Much of what was feared at this meeting has come to pass.This was well attended, with Rally speakers including radio personality Rafe Mair, Delta-Richmond East MP John Cummins, Delta Councillor Vicki Huntington, Adriane Carr of the Green Party, and David Chudnovsky, NDP's Transportation Critic. It is still worth watching the video - many of the issues and concerns expressed are still relevant.